Students from Bishop Auckland give up Easter to help the community
A GROUP of students have given up their Easter break to give back to the community, and earn vital experience. Read more
By Richard Bellis Facebook Community Reporter
Bishop Auckland decorating students work on Raby Estate
PAINTING and decorating students tested out their newly acquired skills refurbishing a manor house on the historic Raby Castle estate. Read the Northern Echo article here
By Catherine Priestley catherinepecho Chief Reporter (Sedgefield)
Trainees transform disused Raby house
By Nicky Carter – Reporter • 19 Jan 2021
TRAINEE painters and decorators have brushed up on their skills helping to transform a disused house at Raby Castle in a matter of weeks during a project to provide practical experience.
Twelve level two learners from Bishop Auckland College and one Gaunless Gateway bursary student, working with Trades4Care, have cleared away cobwebs and peeling wallpaper. Four weeks into the six-week project at Raff Yard House has seen a dramatic transformation at the former estate manager's house.
Charlie Wright, co-founder of Trades4Care, said: "We were keen to keep the students busy to give them some practical experience in the work place. With the Covid-19 that has been a real struggle.
"Duncan Peake and Philip Dent at Raby Estates were keen to help provide the students with practical experience and although we're not finished yet, they have indicated they want to work closely in future."
Trades4Care is a community interest company that provides young people with valuable work experience in the workplace with alongside trusted tradesmen and women. Mr Wright added: "They have all loved working at Raby and they were delighted when Lord and Lady Barnard popped in to see how the work was going.
"We are so grateful to the Gaunless Gateway which has provided a bursary to one of our former students, Connor Woodward, and hopefully this additional experience will go towards finding full time employment."
The 13-strong team, alongside professional decorator Nigel Stevens, have stripped down, sanded, repaired and painted windows and doors to the front and side of the historic property.
Mr Wright said: "We have two or three students each day with us and it has been great for them to get practical experience in the workplace."
The work by trainees and the Trades4Care team will mean the building, which has been empty since 2003, can be used as offices by staff at Raby Estates.
Mr Wright added: "We need about another five days to finish the windows at the back, but with the weather the way it is we have been concentrating on the inside."
It is not the first-time trainees with Trades4Care have helped revive buildings in Teesdale. Previous projects have been carried at Stainton and Streatlam Village Hall and the Scarth Hall, in Staindrop, as well as a number of care homes and the Butterwick Hospice, at Bishop Auckland.
MORE YOUNG PEOPLE SUPPORTED BY TRADES 4 CARE PROJECT
TRADES4CARE IS a young, local, not for profit social enterprise offering rewarding work experiences to young people at the start of their careers in the construction industry.
The project has just completed another successful summer project, on this occasion for Bishopton Primary School, supporting eight students from Bishop Auckland College with vital life skills, practical training, motivational sessions and logistical support.
Michelle Andelin from Bishop Auckland College said: "The students were all keen to be part of the Trades4Care programme, which demonstrates their full commitment to learning and being ready for the next stage of their development in September." Bishop Press Issue No 285
Village venue in Staindrop helping to give students on-the-job training
STAINDROP'S Scarth Memorial Hall enjoyed a minor makeover last week, thanks to a community group that is helping students get on-the-job training.
Trades4Care, a community interest company, was launched two years ago with a pilot project at Stainton Village Hall, which saw a group of Bishop Auckland College students get work experience alongside qualified tradesmen in a number fields.
Now after a completing a number of successful projects across the county, the group was invited back to the dale to carry out minor renovations to Staindrop's premier community venue.
Charlie Wright, from Trades4Care, said normally they would take no more than six students at a time to ensure each one gets individual attention.
He added: "We have only two today because of the social distancing and we have given them masks, gloves and hand-sanitiser. Because they have been off college so long they were desperate to come."
He added: "We are tradesmen in our mid-fifties who just want to give back and give them a bit of experience.
"All of the kids we had on the pilot in Stainton have all got jobs."
As part of their final college year, students have to do 45 days of work experience and the Scarth work is one of several that 19-year-old second-year student Megan Cowan has taken part in with Trades4Care. She has already gained three weeks' worth of work experience.
Of the first day at the Scarth Hall, Mason McMeekin, a 16-year-old level one student, said: "It has been great. We have got a lot of work done and got all the preparation done." Andrew Coxon, of Trades4Care, said the scheme not only helped students learn from experts in their field but it also gave community venues and facilities, like Scarth Hall, get much-needed work done at a very affordable rate. We particularly work in health, social care, education and community venues and facilities such as this provides a fantastic opportunity to bring young people at the start of their careers together with older or vulnerable people providing them with new and rewarding experiences, improved communication and social skills."
https://www.teesdalemercury.co.uk/news/village-venue-in-staindrop-helping-to-give-students-onthejob-training
Bishop Auckland College students give Crook home a makeover
By Catherine Priestley catherinepechoChief Reporter (Sedgefield)
A CARE home was given a much-needed makeover by a team of decorating students.
West Lodge Care Home, in Crook, now has a newly decorated lounge, dining room and corridors thanks to five talented young people from Bishop Auckland College, working with Trades4Care.
The makeover was seen as an early Christmas present to the residents of the home.
Kate Lyons, General Manager of West Lodge Care Home, was delighted with the new look.
She said: "We've had a brilliant two weeks here at West Lodge thanks to Trades4Care and the local young people who have transformed one of our resident lounges, dining room and corridors.
"They have really done a fantastic job and the standard of work has been first class. Hats off to the students, who have left a lasting impression. The residents have loved having them and they even received a spontaneous round of applause when they had completed the work. We can't thank you enough."
The care home makeover is the latest success story for Trades4Care, following earlier pilot projects at Butterwick Hospice and Stainton Village Hall, and was supported by Gaunless Gateway Big Local Partnership.
Services include home maintenance, gardening, and domestic cleaning including carpets, upholstery and hard floors, with plans to add plumbing, electrical, joinery and refuse removal next year.
The programme is managed by co-founders and directors of Trades4Care Andrew Coxon and Charlie Wright, supported by trade colleague Nigel Stevens.
Mr Coxon said: "It's clear that we are helping the community and the feedback we have received over the past few months from local community and care projects, colleges and organisations has been really positive and is gaining momentum.
"The grant from the Gaunless Gateway Big Local will be used alongside the financial and programme commitment made from Bishop Auckland College and wider interest from other colleges and organisations to deliver further programmes for young people."
https://www.thenorthernecho.co.uk/news/local/southdurham/18122014.bishop-auckland-college-students-give-crook-home-makeover/
HENKNOWLE COMMUNITY CENTRE MAKEOVER THANKS TO TRADES4CARE
Oct 30, 2019 | Featured, Local News |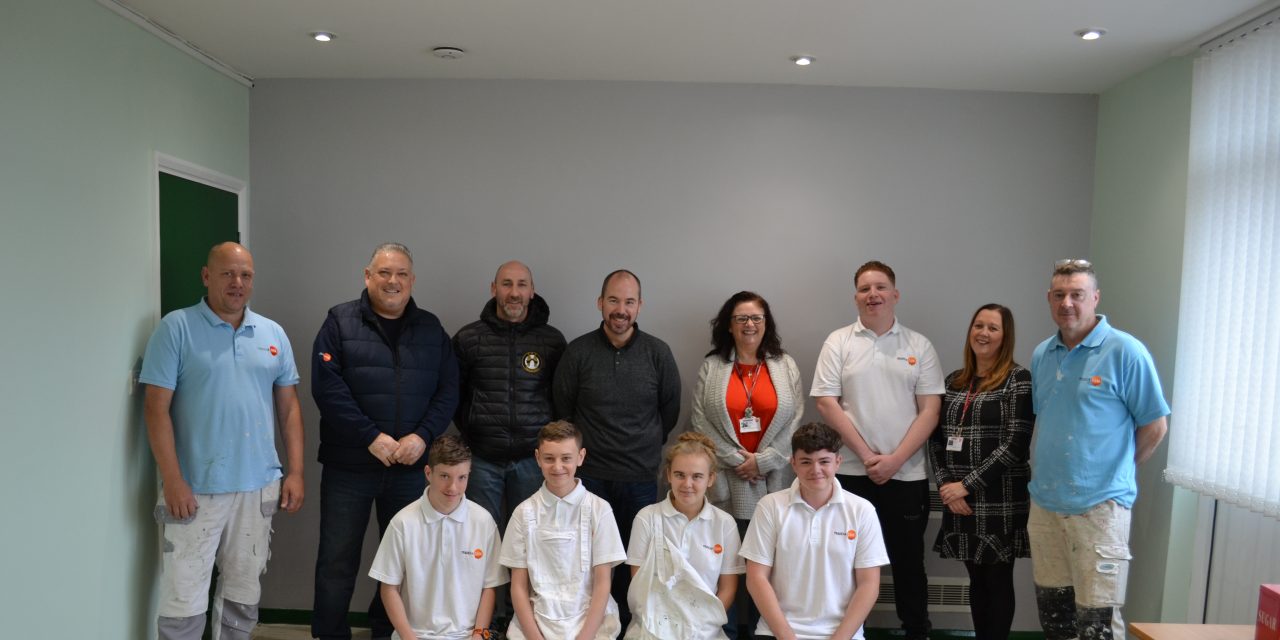 Henknowle Community Centre in Bishop Auckland has recently undergone a makeover thanks to a scheme that is giving students real workplace experience.
Following recent improvement works to replace the outdated lighting and various other repairs inside the community centre, most of the public rooms have completely been redecorated. The makeover was completed through Trades4Care, a scheme that offers care facilities and community buildings an opportunity for a spruce up while also offering training to college students.
Andrew Coxon, Co-Founder and Director of Trades4Care said; "Following a successful pilot scheme and having successfully attracted £7,000 funding from the Gaunless Gateway Big Local Partnership we had an expression of interest from Henknowle to help them redecorate their community centre. The grant from the Gaunless Gateway Big Local will be used alongside the financial and programme commitment made from Bishop Auckland College to deliver further programmes for local young people over the coming months. We also thank the college for their time, trust and support''.
The outcomes prove to be extremely valuable for everyone involved; the client, the college, learning support workers, the young person, the local community, the handpicked trades and the Trades4Care Project founders.
Lee Brownson added; ''The quality of the job they've all done in the community centre is excellent and the impact and change in the young people was clearly visible day by day. I was very impressed at the impact this programme had especially on the young people.''
Charlie Wright the Co-founder said; ''Everyone involved is very excited not just the opportunity but the unique outcomes the programme brings for individuals, organisations and the local community. Working relationships and partnerships have progressed across the care and education sectors locally and the many local community initiatives with the current P&D Project."
Trades4Care Project approach has also received positive feedback from other local organisations with similar social aims and values.
Tracy Dunning, Bishop Auckland Learning Support Officer, said; ''One of our learners has physical disabilities and I spent the week with three of my learners working with the Trades4Care Project team. After returning to college he has gained more confidence in his work in all of his lessons not only in the workshop. He now works better in the classroom which was a more challenging part of his college day, also bringing a new confidence into the workshop, taking more pride in his work''.
Tracy continues; ''From my personal experience, I found the week with Trades4Care Project not only beneficial for my learners but beneficial for me. It taught me different aspects of being onsite which has allowed me to take into the workshop when spending time with learners, discussing what would happen if we were onsite and how we would work there as well as how we could bring those lessons into our workshop. The two other learners have also enjoyed their experience as they were very unsure of their own abilities'.
Head of School at Bishop Auckland College, Michelle Andelin, who has responsibility for Construction and Employability within her remit added; ''I would recommend the Trades4Care Project, the team not only provides a great learning experience but helps them recognise that by helping our local communities we become more considerate to those who need our support. The college is very committed and excited to be part of this venture with Trades4Care Project working within the local community.
The experience allows our learners not only first-hand experience in a working environment, but a valuable bespoke programme in which they develop their communication, team building and employability skills. From induction through to the evaluation exercise every one of our learners taking part during the last academic year and the current one has had a fantastic time. We can't thank Trades4Care enough for this wonderful opportunity and are looking forward to other projects later in the year.''
One learner commented; ''I would recommend this programme to my friends and fellow students because it gives you very good preparation for the work placement and improves your skills and experience in a very short time.''
Every learner attending the programme has commented on the positivity and strong value and growth the programme brings and has committed to further work placements and 1-1 support work already in place and identified.
The Trades4Care Project is a new exciting innovative Community Interest Company based in County Durham offering a unique holistic approach and programme, delivering person focussed support, practical skills development, social and life skills growth and employment preparation coaching for young people who find themselves at a crossroads, real or perceived disadvantage. A company with real social values at its heart.
If anyone wishes to discuss the Trades4Care programme or opportunities further contact Andrew Coxon on 07725 113352
MAIN PHOTO
TOP (L-R) Charlie Wright, Andrew Coxon, Andrew Sowerby, Lee Brownson, Tracy Dunning, Josh Roberts, Michelle Andelin and Nigel Stevens.
BOTTOM (L-R) Jack Gullidge, David Ross, Megan Cowan and Adam McCann.
https://www.newtonnews.co.uk/henknowle-community-centre-makeover-thanks-to-trades-4-care/
Work experience students help out with refurbishment of Stainton Village Hall
By Martin Paul – Senior Reporter • 16 Nov 2018
A DALE village hall underwent a major makeover ahead of an important commemoration, thanks to a scheme that is giving students workplace experience.
Stainton Village Hall was completely redecorated last week, just in time for a service and afternoon tea to pay tribute to the village's First World War fallen. The village counts the Queen's uncle, Capt Fergus Bowes Lyon, among their heroes who made the ultimate sacrifice.
The makeover was completed through Trades4Care, a scheme that offers care facilities and community buildings an opportunity for a spruce up while also offering training to college students.
Trades4Care is the brainchild of Andrew Coxon who, through his knowledge of the care industry, realised that many care homes are short of cash and struggle to meet Care Quality Commission standards. He also realised that many colleges struggle to find work experience places for their students, and decided to solve both problems by bringing them together.
He said: "It is bridging a gap. This is a collaborative project working closely with local colleges and organisations to provide an enhanced journey of opportunity for our young people, including work placements, life skills, coaching and mentorship."
The redecoration of Stainton Village Hall was one of two pilot projects undertaken by Trades4Care.
Michelle Andelin, from Bishop Auckland College, praised the scheme because of the difficulty in finding work experience placements for students who might otherwise be involved with project work at the college.
She said: "It is absolutely fantastic."
Lucy McKindle, from Stainton Grove, was one of the five students helping out at the village hall. She said: "It has been amazing and a great opportunity."
She chose to follow in her builder dad's footsteps because she gets to use her love for art while doing redecorating work. Also satisfied was village hall member Jane Teasdale. She said: "I think it is brilliant for the students to have the opportunity to be in a proper work place. I am sure it is helping them."
Mr Coxon added that the contractors benefited from having the students on board as well. He said: "Everybody benefits. The kids are learning things in the first two days they never learned in a year at college. The five students have saved about a day [of work for the contractors], which they feed back to the students through demonstrations, coaching and advice."
For more information visit trades4care.co.uk.
https://www.teesdalemercury.co.uk/news/work-experience-students-help-out-with-refurbishment-of-stainton-village-hall